Kahului is the gateway to all that is fun in Maui, Hawaii! Crystal clear beaches, lush forests, vibrant big box shopping scene, and delicious food, there is much to love about this piece of paradise called Kahului. It is also the largest settlement on the island of Maui and is a commercial, trade, and transport hub. Kahului is closer to the airport which allows tourists to enjoy helicopter tours and witness the breathtaking landscape of Maui. You'll also be in for road trips along West Maui, Hana Highway, and South Maui cruising (local's say "Holoholo") along rugged coastlines, beautiful beaches, experiencing waterfalls, and much more!
If you are visiting Maui, we recommend you start your journey in Kahului since there is a lot to see and do in the area to keep you occupied! Here are the 16 of the best things you can enjoy near Kahului, HI:
1. Kahului Bay
One of the popular attractions is Kahului Bay. This is where you'll see the big harbor and cruise ships docked throughout the day. If you plan to go on a cruise, you can start your journey here. The cruise takes you along the beautiful white and yellow sandy beaches. The weather at the harbor can get quite windy, so plan to bring a light sweater! We advise dressing and packing accordingly. Be sure to check the weather before you decide to travel.
2. Windsurfing and Kitesurfing
If the weather is windy, then your next stop is where it's at! The Windsurfing Capital of the World is here at Kanaha Beach Park. Watching the sails and kites on the beaches of Kahului may tempt you to try your hands at kitesurfing or windsurfing. Try the new craze of foiling, there's bound to be a board that has your name on it! But, if you don't know the sport, don't worry. You can get lessons from some of the best companies in Kahului, such as Maui Windsurf Company, Surf & Kite, HST Windsurfing & Kitesurfing School, and Second Wind Sail. Once you learn the sport, some of the schools even give you a GoPro Camera to attach to yourself and communicate via radio. For beginners, lessons start early during the day as the winds get stronger as the day passes.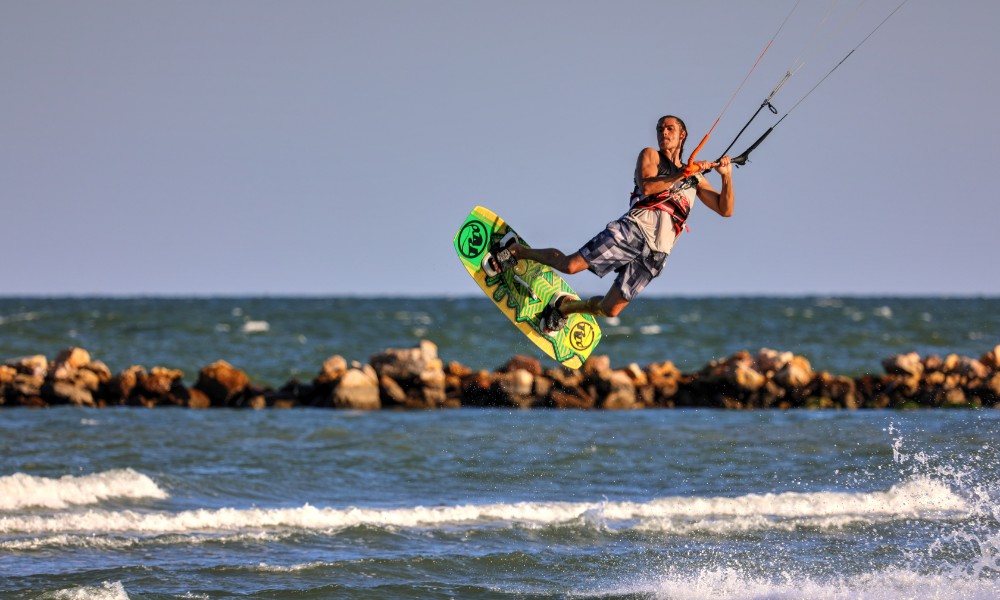 3. Kanaha Beach Park
As mentioned previously, this is a great place to watch or try your new favorite water sport, but is also a wonderful beach in its own right. This stunning two-mile beach offers beautiful views of the West Maui Mountains. The beach is parallel to the airport, and you'll often hear the sounds of the plane taking off and landing nearby. There is a quieter east side of the beach where you can enjoy some time alone away from the crowds. You'll also find a campground in Kanaha, an excellent spot for a picnic and hosting a BBQ with your family.
4. Paia Town
After your time in the water, you might be hungry for some "Ono Grindz" or good food as the locals say. Paia Fish Market is a great place that offers locally caught fish with healthy portions, try the blackened or cajun-style fish on a salad or with some rice, you'll be happy you did. If you want a finer dining experience, you'll need to plan ahead and get reservations to the world-renowned Mama's Fish House. They don't skimp on quality, but your wallet will be sure to feel it! While you're waiting for the three Michelin-star reservations, be sure to check out the local vibe of the town. You'll notice it feels like the 70's frozen in time while enjoying window shopping for hemp shirts or goat soap. After dinner, enjoy a local favorite at Ululani's Shaved Ice while watching the turtles nap on the beach.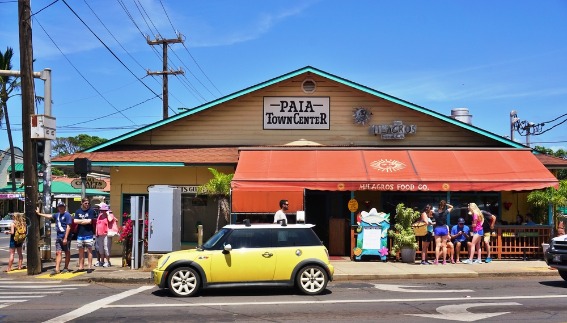 5. Ho'okipa Beach Park & Jaws (Pe'ahi)
If you are into surfing, then you shouldn't miss Ho'okipa Beach Park and the nearby Jaws. The waves here can get really big, over 100 feet sometimes, so it is only suitable for experienced surfers. In addition to the ideal surfing waves, the park features beautiful scenery, especially from the east side. There is a food truck that comes every day for delicious Hawaiian treats. For the best experience, visit the beach at sunset and see the sea turtles shuffling onto the shore. There is a keeper at the beach to ensure visitors keep a safe distance from the turtles.
6. Hana Highway
A drive through the Hana Highway is not an ordinary one. Here, for your whole route, you'll drive through spectacular scenery. From the unspoiled beach to pristine waterfalls to the lush rainforest, you are surely in for a memorable time throughout your journey. A trip along Hana Highway will require a whole day because the route is extremely winding, and you'll cross 59 bridges, many of which date back to the 20th century and earlier. Some of the main highlights include Twin Falls, Ho'okipa Beach Park, Keanae Peninsula (be sure to stop at Aunty Sandy's Banana Bread), and Wai'anapanapa State Park (reservations required, book at least one day before you travel).
7. The Maui Zipline Company
There is no better way to witness the beauty of Maui than through a zip line. The Maui Zipline Company has five lanes, ranging from 300 to 900 feet in length. Children above 5 can also take part in a zipline and ride side-by-side with their loved ones. Each line has a trained guide that will explain the flora all around you. When you lift your head, you'll be amazed by the panoramic views of the West Maui Mountains and its coastline, and not to miss the incredible Haleakalā volcano.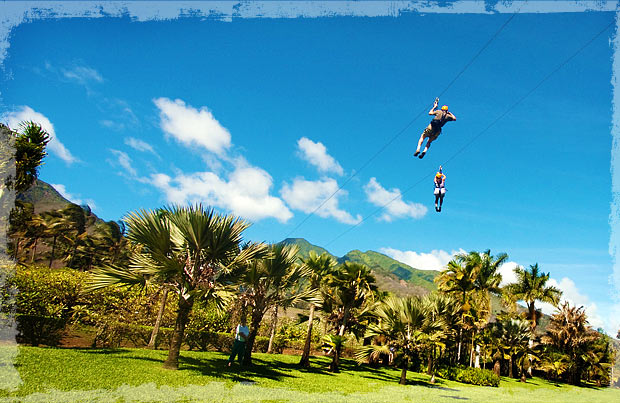 8. Helicopter Tours
Being next to the airport comes with many benefits, especially on an island where the majority of the attractions are inaccessible by road. The best way to experience the beauty of Maui and its surreal landscape is to book a helicopter tour. There are many companies from where you can book a flight tour, including Air Maui, Maverick Helicopter Tours, Blue Hawaiian, and Sunshine Helicopters.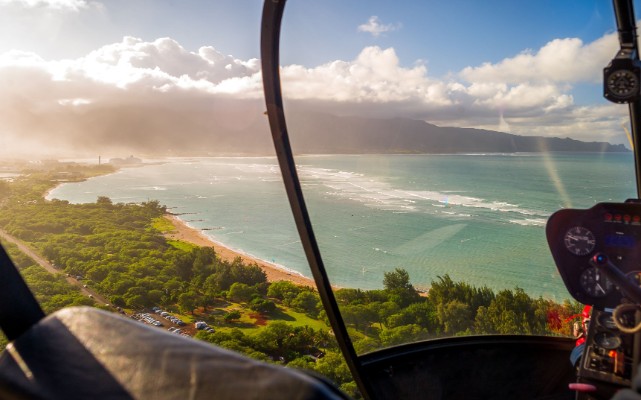 9. Iao Valley State Park
The lush Iao Valley State Park is located in Central Maui, west of Wailuku. The main highlight of the park is the pointy Kuka'emoku, also known as the 'Iao Needle' – 370 meters or over 1200 foot high erosional feature rising from the valley floor. The needle is often hidden in clouds. If you want to view it, it's advisable to arrive early during the day. About 10 miles of the valley is protected as a park. You can walk along the lush rainforests and learn about the place at the Hawaii Nature Center. The park is closed for renovation and will be opened after January 15, 2023.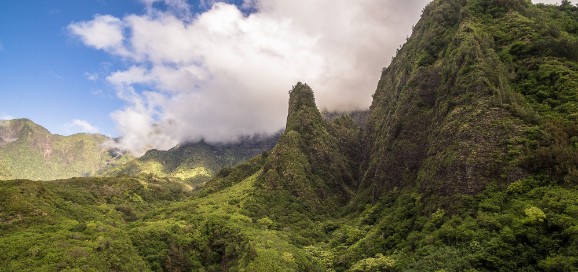 10. Baldwin Beach Park
Baldwin Beach is another beautiful stretch of sand located just outside of Paia. The beach park is equipped with bathrooms, showers, lifeguards, picnic tables, barbecues, a covered pavilion, and many other amenities. During the winter season, the beach has a large and regular shorebreak making it ideal for boogie-boarders. The beach park has protected swimming areas that offer safe swimming spots even for the kids. It gets busier during the weekend, but you can still find empty stretches of beach all to yourself.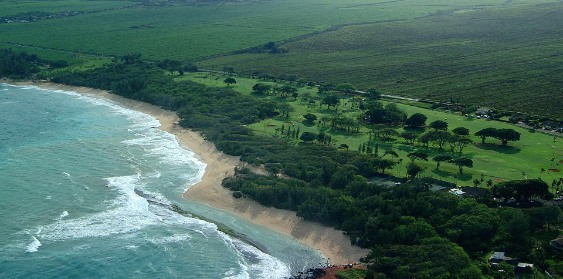 11. West Maui Circle Drive
The West Maui Circle Drive is known for being tough, but you won't face any issues if you drive with care. There is no place along the drive that will not leave you spellbound, but a few of the places will make their mark, including Punalau Beach, Kahakuloa Head, Waihee Ridge, Lipoa Point, and Nakalele Blowhole. We advise you to take a drive clockwise as before you reach Lipoa Point, there are many incredible beaches you can explore, such as Kahekili Beach Park, Launiupoko Beach Park, and Kaanapali Beach.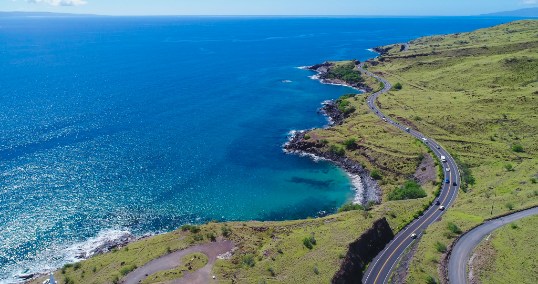 12.
Maui Swap Meet
Maui is an expensive place, but there are few markets where you can find really good bargains. The Maui Swap Meet is such a vast market that has been there since 1981. One of the things that make this market special is the number of locals shopping here. Spare a couple of hours and buy almost anything from stalls, including plants, jewelry, souvenirs, fruits and vegetables, and many other things. The market also has a great food selection, like tacos, BBQ, and Hawaiian special shaved ice.
13. Queen Kaahumanu Center
Your trip to Kahului is incomplete without shopping at the Queen Kaahumanu Center. This giant shopping mall is situated on Kaahumanu Road. The mall has many stores, including local brands like The Foam Co, as well as other big brands such as Bath & Body Works, Macy's, and Victoria's Secret. It's a nice place to visit with your family and take them to the theater at the mall or visit a community event like the Farmer's Market which is always happening throughout the year.

14. Alexander & Baldwin Sugar Museum
Alexander & Baldwin is a popular sugar producer that was first set up in Kahului in the 1870s. Today, they own more than 87,000 setups across the state. In the museum, you'll learn about the struggles taken by Baldwin to make sugar production viable across the island. There are some important artifacts on display, such as gears from the cane crushers and an antique sugarcane tractor.

15. Maui Nui Botanical Gardens
Walk through Maui's Botanical Gardens and learn about the island's rich plant life. You'll find many coastal and dry forest plants here as well as unique varieties brought from Polynesia. There are more than 40 kinds of sugarcane, 15 types of sweet potato, and 20 taro varieties. Visitors will also learn about water conservation techniques such as xeriscaping and saving water in domestic gardens. Bring your kids along, as there is a picnic area and a playground to keep them busy.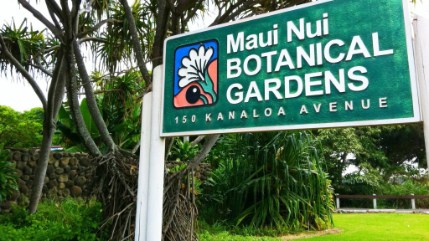 16.
Maui Arts and Cultural Center (MACC)
The Maui Art and Cultural Center was opened in 1994, and since then, it has been hosting large-scale indoor and outdoor events. On average, 1700 events are held at the center every year, and the best part is most of the events are free to attend. The MACC hosts concerts, comedians, dance events, art shows, and also business events. Some of the major names that took to the stage here include Jimmy Buffett, Bob Dylan, and John Prine. The free events are Starry Night Cinema, Maui 'Ukulele Festival, and Ki Ho'alu Guitar Festival, among many others.
How to Get Around?
You can get around Kahului by taxi, ridesharing (Uber/Lyft), tour bus, or shuttle. But if you truly want to experience Maui at your own pace and explore all the beautiful sites nearby, we recommend you get a rental car in advance from us over at Rent Maui Cars located locally in Kahului with airport dropoff and pickup! Click here for more information, or give us a call at 808-283-2827 when you're in need of a rental car! Hopefully, now you have some ideas on what to do near Kahului, Hawaii, make sure to travel safely and with the Spirit of Aloha.
– Mahalo Nui Loa!